To Read the Original Article, click here.
JD Bank Earns Our 2018 Editor's Choice Award™ for Its Focus on Community Engagement in Louisiana
By: Matt Walker
Posted: September 12, 2018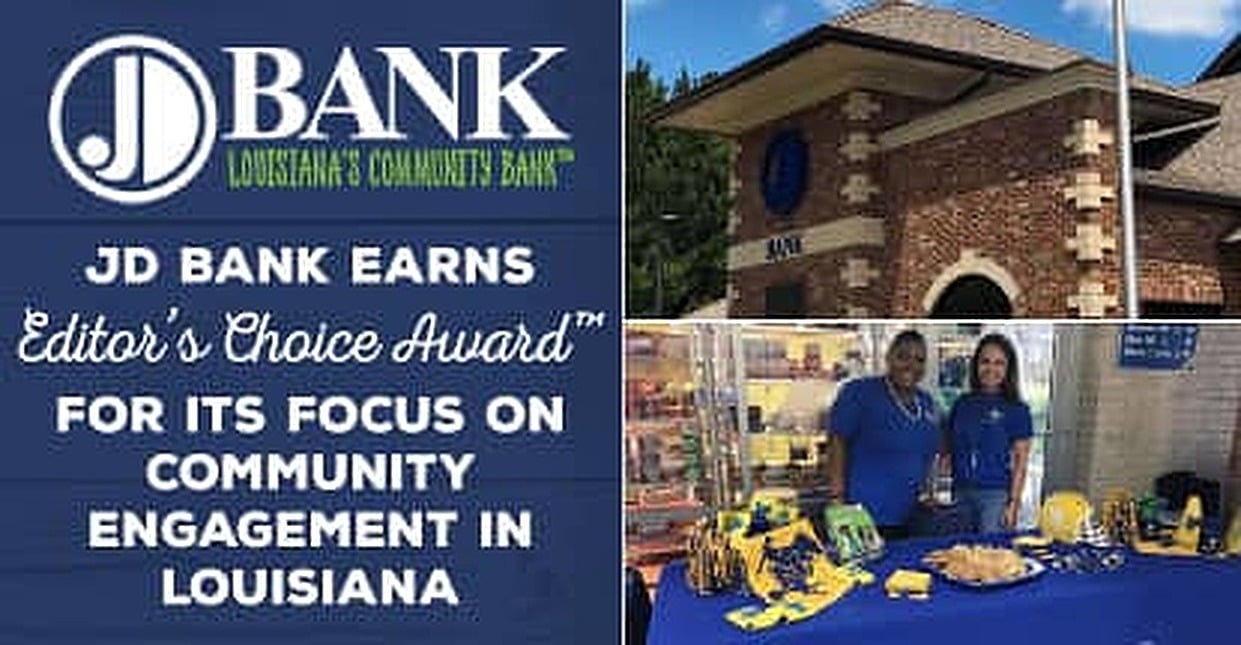 Editorial Note: Opinions expressed here are the author's alone, not those of any bank, credit card issuer, airline or hotel chain, and have not been reviewed, approved or otherwise endorsed by any of these entities.
In a Nutshell: In today's fast-paced world, it can feel at times as if like the idea of community is being left behind. But JD Bank knows the importance of community involvement, and is helping to keep its community spirit alive. The Louisiana chain works encourages volunteering in its communities, donates to local charities, and provides financial education to various audiences. For these reasons, we have selected JD Bank as a recipient of the 2018 Editor's Choice Award™. inShare
Summer is in full swing in Mamou, Louisiana, and on Splash Day, kids take a break from playing in the water to line up for a turn at the flamingo ring toss game. Others are eager to have their faces painted in bright colors and wild designs.
For the JD Bank volunteers operating the booth, this annual tradition hosted by the local police and fire departments is one of the most highly anticipated community events of the year.
As summer gives way to fall, and humidity's grip begins to loosen, more than 200,000 attendees gather in downtown New Iberia for the World Championship Gumbo Cookoff. The event — in its 29th year — is estimated to provide an economic impact of at least $2 million to the city.
Again, JD Bank is there for the festivities.
"To do business in a community, you have to know your community. You have to be a part of that community," said Ann Barilleaux, Vice President Marketing Director for JD Bank.
The bank was founded in 1947 by community leaders in Jennings, Louisiana, who were interested in bringing improved financial services to Jeff Davis Parish (that's where the JD comes in). With community improvement as a goal from the beginning, the JD Bank website notes that this theme has carried over in the intervening decades and continues today.
"JD Bank donates both the time and effort of our employees, as well as financial resources to the many philanthropic organizations in our service area," according to the website. "We believe community service goes hand-in-hand with customer service."
Today, JD Bank has 22 full-service locations and two drive-up branches across southwestern Louisiana, said Barilleaux. Its largest customer base is in the Lake Charles area but the company headquarters remain in Jennings.
JD Bank Employs a Three-Pronged Approach to Community Service: Volunteer, Donate, Educate
Barilleaux said JD Bank's approach to continuing its tradition of community service is three-pronged: It encourages volunteering, donates money to worthy causes and charities, and provides financial education whenever possible.
"By doing that, you serve your customer on many, many levels besides just the transactional level," Barilleaux said.
Of course, these three areas don't always remain distinct from one another.
Financial education is a huge piece of how JD Bank gives back to the community and is often intertwined with volunteerism, Barilleaux said. The bank sends its lenders, branch managers, and other employees to volunteer in places like area schools, the Literary Council, and underserved areas, to help teach people about financial literacy and offer tips on how to manage their finances.
"We actually have a program where we have partnered with the different school boards of the area to make them aware of the financial education program," Barilleaux said. "We offer it to all the teachers. Some of the teachers will contact us to go and participate with them and other times, we'll seek them out to make those connections."
Barilleaux also highlights some of the other volunteer and community activities she said the employees are usually excited to participate in, like sponsoring a cooking team in a fundraiser cook-off for Jennings Communities Against Domestic Violence.
"Toys for Tots is also one they look forward to," she said. "All of our branches are collection sites, and then we have employees who will use a vacation day to go distribute the toys. So we really get to do great things in all of our markets at many different levels as a community partner on the philanthropic side."
Branch-level Employees Determine the Needs of the Community They Serve
"Our first commitment is to our customers," Barilleaux said, "and part of our role as a community bank is that we still allow our lenders and the people in the branches to make decisions for what's best for their communities, and what's best for their customers."
Barilleaux said this practice sets JD Bank apart from a lot of other financial institutions today. At many other institutions, once a customer fills out an application for financial services, the application is then sent to a decision-maker outside of the community.
As a community bank that often serves small communities, Barilleaux said she often relies on branch managers and staff to let her know what does or does not work in a particular market. She said her department makes all the final decisions about who to choose as community partners, and how to distribute its time, money, and other resources.
"But it's really based on the recommendations of the people that live and work in those communities," she said.
She said this approach helps determine whether funds are being used in an appropriate way and going toward an appropriate cause, if community partners are aligned with JD Bank's own values and mission, and if the financial education program needs to be tailored to meet the needs of a particular group.
Barilleaux also said the needs of communities can vary greatly from one to another. One of JD Bank's more agricultural markets will have very different needs than the community of a more metropolitan area like Lafayette. Each community also has various organizations and events that are important to that specific community for a variety of reasons.
Community Service Carries Over into the Business Model through Small Business Checking and Customer Call Center
JD Bank's approach of placing customer needs first serves local communities and carries over into how the bank operates on the business side as well.
"We just launched our small business checking account, which we're really excited about," Barilleaux said. "That's going to help a lot of our small business owners. When you have a small business, you need people to look out for you and be good stewards of your money."
The account is suitable for a business with a low volume of monthly transactions. If a company qualifies for the free account, it can also take advantage of features like no deposit fees on the first 250 items per month, unlimited electronic deposits, and a free business debit card.
JD Bank also recently launched its own call center to better serve its customers' needs. It is, "Your one-call information center for questions concerning your JD Bank account," according to the website.
"It's very nice because, you know, sometimes when you call a company, you can get a little frustrated that you're bounced around a little bit while people try to find an answer to your questions," Barilleaux said. "But this new call center helps streamline the process."
Currently, the call center can be reached by dialing 1-800-789-5159, Monday through Friday from 8 a.m. to 6 p.m., and Saturdays from 9 a.m. to noon.
Meanwhile, JD Bank offers a new mobile wallet, that allows customers to use a mobile device or laptop to make secure purchases quickly through Apple Pay, Samsung Pay, or Google Pay, using a personal or commercial JD Bank debit card.
JD Bank's commitment to community is evident from the most individual level all the way to the top of the company.
At a cystic fibrosis walk for charity, a JD Bank employee and father whose daughter is affected by the condition, cooks a giant pot of jambalaya each year to serve the walkers as they raise awareness and funds for the cause, Barilleaux said.
In 2016, JD Bank donated $43,718 to the United Way of Southwest Louisiana, one of its most active partnerships.
The examples go on and on.
If being a part of a community is necessary to do business in a community, then JD Bank is a well-qualified partner for its broad reach across southwest Louisiana. With its extensive list of community associates and three-pronged approach of volunteering, donating, and educating, the regional chain has demonstrated its commitment to its community over and over again.